You are currently browsing the monthly archive for February 2010.
When I realised the other day that I only had three weeks more of living in my suburb, I got a bit nostalgic.  Not sad, really – I don't love the area.  Well, that's not exactly true.  I love the neighbourhood, I love the bits of it that I see all the time.  But it's not really near any good shops, there's nowhere that I spend a lot of time in the area, there's no one I know around here – not like when I left Birkenhead, I missed the people, the shops, the beach, almost everything about the place.
But I quite like the walk to the bus.  It's just a short one, but I've come to know that street and the houses, and it feels like a friend.  A companion.  I've walked down it with a spring in my step, dragging my heels, winging my arms, weighted down with tiredness.  In heels and in bare feet (sometimes one right after the other).
So yesterday I brought my camera with me and took some photos.  Maybe I'll start doing YIP again – I stopped when I started doing etsy stuff, because I didn't have the energy for both.  But I miss looking at the world through the lens.  And it did make me a better photographer – not that I'm GREAT, or even, I would say, GOOD, but it made me better, and I was taking more photos that I liked.
This is my favourite house on the street.  There is an old Italian lady who lives there, and she sits outside on nice evenings.  You can see her mustard chair under the palm tree next to the front door.  She waves and greets me, although the couple of times I've been walking home from work in bare feet, my heels in my hands, she has given me the evil eye.  Her sneaky green gate down the side, and her colourful roses, make me smile every single day.  I love the way the garden is ordered but not over groomed – I suspect the back yard of being full of fruit trees.
Just for contrast, this is the house next door.  The street is like the suburb – a mix of old and new, concrete boxes with manicured lawns (or neglected ones) and old character houses with fruit and roses (or lots of empty beer bottles)
Does this look like a labrador to you?  It's out the front of the house with all the olive trees in the front garden, and the straggly roses down the drive.
I admit that these aren't to my own taste, but they certainly are well executed.
I was struck the other day by the blue windows against the orange brick.  I must have stood looking at them for about a minute.  A friendly older couple live here – they're not often out when I'm around, but sometimes the man is taking in the bins in the morning, or standing on teh lawn (waiting for someone?) in the evening – in which case he always greets me cheerfully.
It's opposite the road to the house that's been being renovated for the whole time I've lived here – they took down part of the roof, smashed off a cinderblock room, and put the roof back on, among other things.  But the men who live there (brothers?  couple?  flatmates?  none of my business?) were inthe yard while I was taking my happy snaps, and I didn't want to look like a creepy stalker.  They have two yippy dogs, but reputable breeds – some sort of wiry terrier effort.
This is probably the worst shot possible of this house.  You can't see the bright turqouise trim, or the vivid roses, or the cactus flowers.  I don't know who lives here – I saw a young woman in office garb taking out the bins once, but the blinds are always down and there's a big 'security' sign up. 
I do love their flowering wall of colour, though.
The view towards the main road where my bus comes.  Hello, semi-industrial area.  The building on the right is a tralier store, and out the back they make laminate cabinets.  There's a bloke with a beat up powder blue truck that works there.
This is the view from my bus stop.  I missed out Trio cafe on the corner to the left – an ugly brown building that always has people sitting outside drinking coffee in the morning.  I bought some meat from Austria Meat once.  They were super friendly.  I got food poisoning.
Also from my bus stop.  This massive tree is on the grounds of the old folks home, and to the right of this picture is the managed apartments.  I helped a lady from there bring her bin in the other day.  She had her walking stick with her, and looked ready to whap someone with it.
Two weeks ago we painted the living room and my bedroom.  For reference, here is the living room, pre painting.
I probably shouldn't find this photo so humourous, huh?
And here is the new colour.
Ok, ok.  I know what you're thinking.  It's essentially the same colour.  You have some small point, it is very similar (the noisy photo doesn't help), but it's quite a lot darker.  When we were painting the first coat, it was EXACTLY the same colour.  But it dried much deeper and darker – it's particularly noticeable at night.  It's still clean, without being watery like the old colour was, and it's EVENLY APPLIED and not faded, which makes so much difference.  The colour is 'Whimsy' in Dulux.  You can see the contrast on the 'skirting board'.  Here it is closer:
SO MUCH NICER.  Hmmm, the more I look at the floors, the more I realise how much they need refinishing.  Not enough to need immediate attention though, it'll have to wait… the one in my sister's room has been drawn on with green pencil. 
And here is my bedroom being painted.
OH MY GOD YOU GUYS.  When I painted this first bit of blue ('Lake Placid', if we're being exact) over that hideous pink, I almost had a CONNIPTION I was so excited.  (How does one have a conniption, btw?)
Here is Emma's charming husband helping out – he was there ALL DAY and was completely invaluable.  Despite getting a bit enthusiastic around the ceiling trim with the blue… He also scrubbed the mould off of my bathroom ceiling the next weekend.  I owe him many, many beers.
Lord, all that pink is making me feel a bit dizzy.  And not in a fun way.
There would have been more people there, except that I organised it on Valentine's Day.  What can I say?  It's just not on the radar!  Other helpers included my cousin Madelaine:
And my sister Maeve, aka the camera whore:
LOOK AT ALL THE BLUE AAAAAAAAAAAAA IT'S SO AWESOME!
Here is a shot of it creeping up the walls, taken from the kitchen.
I was just reading the back issues of Maria Killam' of colour me happy's newsletter.  In one she's talking about myths about colour.  Apparently there's one that painting a baby's room yellow will make it cry.  I'd never heard it, before, have you?  Maria's response? 'If you paint ANYONE'S room a neon, primary yellow? We will all cry in that room!".
Amen!  This shot makes me realise how insipid and, at the same time, invasive the old colours were.  I am SUPER excited to see how it looks in a nice, darker yellow (please, please don't let it be too bright…).
We are painting at least the kitchen (and maybe the hall, but it sort of depends on if the bathroom is done by then, since it will be the same colour – 'Skyway' 1/4 strength – as the hall.  It's being tiled as we speak, I believe.) on the weekend, and hopefully the trim in most of the rooms.  Do you know how hard it is to choose a white?  Very hard, that's how.
Anyway, here is the painted bedroom.  We had juust enough paint in our 4 litre can to finish the room – I will need to do touch ups where the pink shines through, and there will probably be a tiny amount left in the can and the sample pot.  I hope it's enough!
Aaaah.  It makes me so happy just looking at it!  Except not the trim.  It's actually making me a bit ill, seeing that pink in there.  I realise there are people who would hate this as much as I hate the pink, and shudder to think of sleeping in that room.  Thankfully, they don't have to.  It is, as my sister says, like being underwater.  I love it to pieces.
On Tuesday I booted up the internet on my home computer and a bunch of tabs popped up.  I often do that, so I can continue reading a new blog I've found, or to remind me to do something.  I peered at them and realised… I hadn't been on the internet for ALMOST A WEEK.
This never happens.
Except, I guess, if you are trying to pack and also renovate, and also it's Fringe season – why does that always sneak up on me?  And people keeping having life events like birthdays and farewells and other inconvenient things that I am obliged to attend.  OH WOE IS ME I HAVE A LIFE FULL OF THINGS I LIKE TO DO.
So there's some catching up to do.
My sister got a flat tire (on her car.  Hahaha, see what I did there?  Shut up I am very tired).  We think it was one of these bastards:
She has been taking her revenge.
LOOK HOW BIG THAT IS THAT IS ONE PLANT.  MAEVE SMAAASH!
There are still heaps in there, but all the big ones are gone, and it's actually possible to walk across the garden and only have to pick three or four out of your shoes after.  HUGE progress.  I anticipate future battles, of course, but we've at least got it in retreat for now.
This is what my sister and I think of YOU, three cornered jacks!  Or, maybe what she thinks of me taking photos of her in her cleaning clothes.  It's anyone's guess which one…
Also, do you see the walls behind her?  How they're blue but look almost white?  And also is kind of splotchy and weird (although I guess you can't really see that in the photo but trust me, it IS)?  Hold that thought.
The neighbour's yard has been cleaned up.  I wonder if someone will be moving in any time soon?
This is what it looked like before, from the bit of our fence that wasn't overgrown with trees and vines.  Piles of old wardrobes and bedframes out of frame to the right.  Very nice backyard over the other fence, complete with gazebo, jasmine, and wind chimes.
We PAINTED.
Wait, first, we CLEANED.
Ok, so I cleaned. 
Ew ew ew.  This is the kitchen.  I went back last night and gave it another scrub and it did essentially the same thing.  So.  Gross.  And the colour is so DEPRESSING – now that it's clean it's not too bad during the day (when it sort of looks like the above photo with flash – a yellowy beige), but under artificial light it looks like someone coloured it in with a yellow highlighter.  It's a dark space being right in the middle of the house, so I can see why they painted it a light colours, but I have three answers to that. 
The window to the laundry area.  It's pretty gross and dirty.
Yes, that really truly is an accurate representation of the yellow on the walls.  The towel rails on the back of the door are plastic, and wobble when you touch them.  The hot and cold taps are backwards.  The trim is all cream, and the cabinets are baby poo brown.  Notice the pink toilet, though.  I secretly love it.
One is, once I take the ugly air con out of the loungeroom window (and clean the windows both in the lounge and the kitchen) and cut down the frangipani in the front yard which is planted waaaay too close to the house, a lot more light will be able to struggle through.  And by 'me' doing these things, I probably mean 'someone manly'.
The air con in the lounge room.  With fans in every room, and a second hand portable air con, I don't need it.  I don't even know if it works, but I'm positive that it's not worth the electricity and year-round loss of light in the whole house, even if it does.  So it goes.
Second reason that the kitchen doesn't need to look like an aneamic canary is LIGHTS.  I am going to try for multiple sources of light in every room, it makes any space immediately nicer to be in, and FAR less gloomy and cave like at night.  Fairy lights, lamps, lighting under the cabinets so I can see what I'm doing and don't lose a finger – whatever I can get in there.  And this article from Colour Me Happy is the third.  I just hope the yellow isn't too bright.  The previous painters probably thought they were getting a nice soothing butter – I know, because one of the colours I swatched was lovely on the chip but almost IDENTICAL to the current wall colour on a bigger sample.  And yes, I know swatching is not the actual word.  Shoosh.
While I cleaned the revolting revolting kitchen, with grease and I don't want to know what else (no, really.  I DO NOT WANT TO KNOW.  DO NOT SPEAK OF IT.) soaked into the walls, my sister sorted the bins out.
All the ex-neighbour's rubbish has now been taken away.  Even these.
That's about 30% of the alcohol bottles that were there.
She also did this:
Can you just see her legs poking out the bottom?  She found these in there:
I don't know if you can really see, but they're pruning shears.  Stuck into the tree.  Overgrown.  Someone clearly gave up….
Phew.  Now I don't feel so bad for being buggered.  I think I'll leave the painting for another post.
…the dogs in this neighbourhood.
I think we are the only house in the WHOLE SUBURB without one.
Someone walked their tiny rat dog down my street five minutes ago.  The dogs on my street have just stopped barking… well, except for the one across the street, the one that belongs to the kid that likes to stand on his trampoline at 8 in the morning and BARK AT THE DOG.  For hours.
I can tell the rat dog's owner was heading northwest.  There's faint barking coming from that direction.
No, I will not miss the dogs.
Map from wunderground.
It's cooler in the sahara.
Ok, so, it's cooler in the sahara at 3am than it is in Adelaide at 2pm.
BUT STILL.
I am going to miss my evaporative air conditioning when we move.
I live near Port Road, a big strip of road that goes from the city of Adelaide to (you guessed it!) Port Adelaide.  It has three lanes each way, and in the middle, all the way down, there is a green strip.  Well, for now – that'll be tram tracks soon.  And by soon, I mean maybe in the next five years, notthati'mbitter.  Anyhow, that means lots of trees, and besides that, there's some government facility near us with lots of empty space for trees.
The birds love it.  There are flocks and flocks of white cockatoos and sulfer crested ones that fly back and forth over my house from one of these areas to another.  They make lovely lovely noises.  I know, I know.  To some people it kind of sounds like someone dragging a nail over a rusty tin can.  But to me, it sounds like home.  I love to hear a whole flock of them swooping overhead, or a group of two or three, or even one lonely bird, squawking as they search for the rest of their flock.  I love their cries and I love the soft 'shwoomp' of their wings, so full and white. Once a huge thunderclap woke them all (and me!) in the middle of a gloriously stormy night, and you could hear them swarming up from their roosts, startled into wakefullness.  Just lovely.
Galahs in flight
All photos blatantly stolen from the internets.  Click on them for their point of origin.
When I was in China, I bought a whole bunch of David Attenborough docos, and watched my way through them. When it reached the turn of the parrots in The Life of Birds, there was a shot of rosellas in a gum tree, shrieking at each other, making a truly awful racket, squabbling over the nectar.  I burst unexpectedly into homesick tears.
I had the oppostie reaction on Saturday when I walked under a street tree – a flowering gum – packed full of rainbow lorikeets.  How ridiculous are thes ebirds?  They look like they were coloured in by a two year old!  I walked less than a metre under some of them and their only reaction was to eye me off, as if DARING me to steal their delicious food.  Just TRY it, missy!  As I past, the squawking set up an even higher pitch, and the whole tree looked like it might take off, so vibrating was it with flapping creatures.
Rainbow Lorikeets - unusually restrained
Less adorable to me are the blackbirds that have invaded the suburb.  I am NOT fond of these birds, their melodious song aside.  Which, frankly, sounds like what a computer would come up with if you asked it to pretend to be a bird.  Not a patch on a magpie's morning song.  Can you tell there was a nest right outside my window?  I've often been owken by the beautiful, but repetative, blackbird song, echoed all through the suburb.  About 2am, they start.  Then, at about 3:30 when they fade out, the cockies start up – much nicer.  Flocking and calling. 
On the same saturday as the rosellas brought a grin to my face, I startled a bunch of blackbirds out of someone's yard.  They flew up to the electric wires, and perched there.  There must have been two dozen, and half of those still had the brownish plumage of the young'uns.  They looked at me with their beady eyes, and I must say I thought that they looked very sinister.  Maybe it's because I know that they kick other bird's young out of their nests.  Or maybe  I am just plain prejudiced.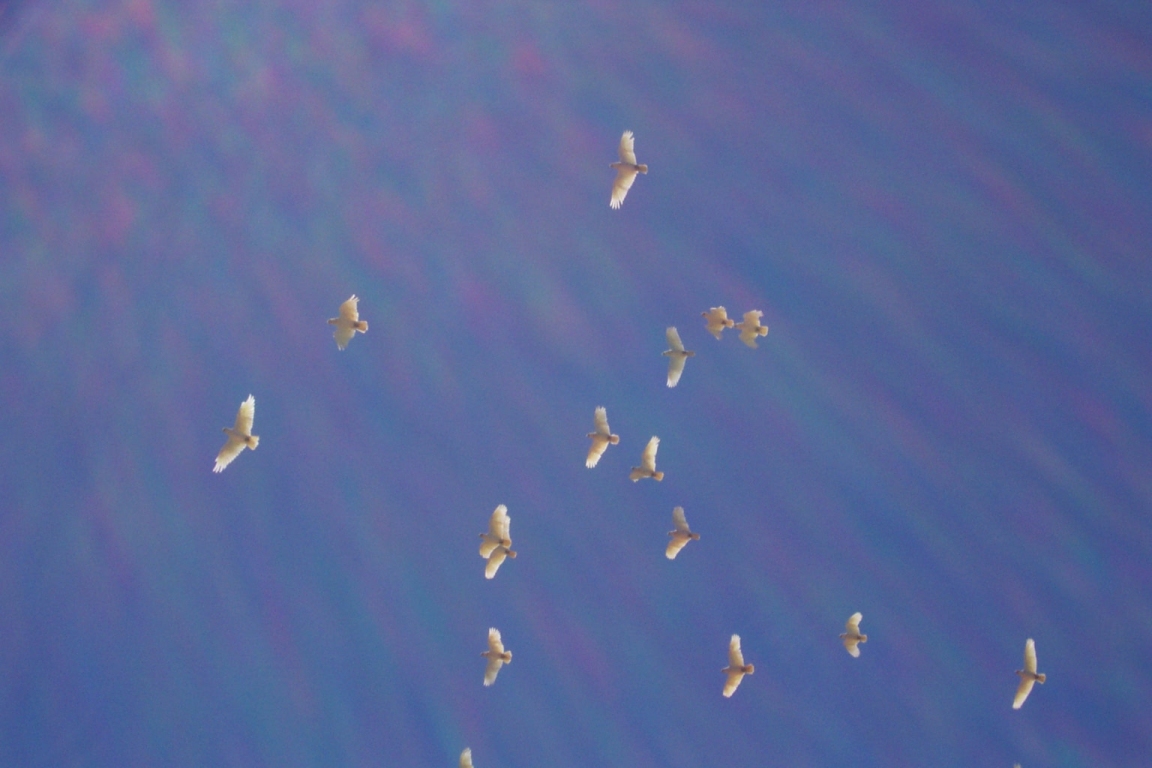 A flock of white crested cockatoos
I often look at the photos at, say, Attic 24 or Posie Gets Cozy and marvel at the rolling english countryside.  It looks like something out of a children's book!  And imagine being able to enjoy birdsong, or a landscape, or berries from a rambling blackberry, without feeling conflicted because those are noxious pests, doing damage to the environment, to native plants, birds, animals.
I was very pleased, when we snuck next door at the new house for our peek the other day, to startle two sulfur crested cockatoos from a tree.  I will miss the calls of the galahs when we move, hopefully there will be more where we are – and I'm planning native shrubs and grasses out the front and around the veggies at the back, to hopefuly attract wrens and willy wagtails and other cheeky feathered friends.
the superb blue wrens at my parent's place are just beautiful and I miss them – they get red crested, black cockatoos, too, which are glorious
I've officially owned my house for one week now.
On Monday I went there with a couple of friends.  I needed to buy a ladder, so I shanghai'd a friend with a stationwagon to go to Bunnings with me.  We got there about 7:30 in the evening, and the recycling plant next door was going full pelt.  I can't remember if I've even mentioned the recycling plant.  It's this one. (If you watch the video here, I'm pretty sure the guy in front of the blue house is my bogan ex-neighbour.  More about him later.)  And, dudes.  It smelt.
At first it wasn't that bad.  But after you'd been outside for a bit, you went inside and you realised that your eyes were stinging.  It smelt a little bit but, more than that, it was that hit-the-back-of-your-throat burning plastic effect.  It was truly unpleasant.
I went home feeling very glum.  As in, maybe this was a mistake, how am I going to deal with this every day, am I entering a totally hellish situation, glum.  I envisioned myself trapped in my house, unable to go outside because of toxic fumes.
We went back on Wednesday.  It's fine.  Slightly pongy, but they shut down for the evenings and it fades away after about 6.  A bit noisy in the front garden, not that noticeable out the back – inside it sort of sounds like a fan going in another room.  Not ideal, sure.  I like silence.  But actually much less disturbing than our noisy neighbours at our rental, who will shout at random times and have arguments.  Certainly not as bad as the house I lived in near a freight train line, or even a passenger train crossing where the train blows its horn every time it goes past.  Every half hour or so.  Totally able to zone it out.  Phew!
We've been cleaning.  It's gross.
There were obviously smokers living there – although maybe not for very long.  The first wall we cleaned had a big smear at about couch height.  When scrubbed, it oozed orange gunk – three or four wiped and scrubs later, it's stopped.  I think.  none of the other walls were as bad – one scrub and a wipe and it's mostly clean.  They'll all need another go-over before I'm happy painting them, but it won't be as much of a struggle.
We've cleaned the lounge room, the main bedroom, the toilet and the hallway.  I want to get the kitchen and the laundry area cleaned this week, for painting next weekend.  Puttying etc will have to happen some time then, too.
My sister has been super helpful.  She's been supportive in general, and in particular she's been coming with me to clean.  She's not such a fan of cleaning the walls – well, it's hard, and you can't really see results, so I don't blame her.  But on Friday we went over and while I did another go on the lounge, as well as cleaning the bedroom, she cleaned the toilet – the walls and the floor and the toilet itself – as well as sweeping out the laundry area and squishing all the spiders.  Then we went outside for a change of scene and while I dug up three cornered jacks (they're everywhere) she cleaned out the garage.  After a while I retreated back inside where it's less pointy to clean the hall, and she cut back one of the trees leaning over the fence.
Dear three cornerd jacks.  I WILL WIN!
I wish I'd taken a better before photo before my sister cut down half a tree!
It's still a small disaster zone.  It's grimy everywhere, and neglected.  The three cornered jacks are so horrible.  They're covering the backyard, and it's just about seeding season.  They stick in your shoes and you track them everywhere are then you step on them later – so painful.  All the bins – reguler, green and recycling – are full of rubbish from the bogan neighbours who moved out as we were looking at the house.  Full dinner sets with food still on, magazines from 1994, and one bottle of every alcoholic spirit you could think of.  Yuck.
However.  It's starting to feel like it might be home.  I've had a couple of moments, walking barefoot through all the dirty room, where it felt like mine.  And once it's painted… well.  I am very excited about the thought.
I got about a 2 square metre patch of the three cornered jacks up.  Not much, but considering that the soil in the garden is as dry and hard as concrete, and that direct pressure will allow a jack to puncture a gardening glove or even the rubber of a gumboot, I consider that a good effort.  Wile I was digging up the roots, I thought about how, although I'm not HAPPY to be digging up f*&#%ing three cornered jacks, there is certainly a sense of triumph about it.  A sense that I am winning my house.  Coming into ownership of it through all the work I'm putting in.  PROPER ownership, not just having a piece of paper that says I owe the bank my first born.  Proving to the house that I'll take care of it.
Silly, I know.  But still.
The house next door is empty – the neighbours moved out while our house was being sold, as I said.  We peeked over the fence when we were there on Friday.  There are a bunch of trees overgrown, hanging over our fence.  Since it's the bext fence to plant things along, I want them gone.  We peeked over and… it's a classic bogan garden.
I think they must have just left all their furniture when they moved.  Two twin beds, a crib, a child's bike, numerous wardrobes and other storage furniture, not to mention enough tires for at least six cars. 
I went over and nicked a tire to make a pond, and I might yoink another to plant a rosemary shrub in – apparently they make better leaves if you give them sandy and rocky soil – the oils we favour are their protection and they don't need it as much if they are pampered.  So I'll plant it seperate from the rest of the garden.
And we will be chopping the trees back to the fence line before anyone else moves in there.
It was a friend's birthday party yesterday, and we all got on a mini bus and went up into the hills to Grumpy's Brewhouse for pizza and beer.  I was a bit jumpy about it, frankly.  There've been a few hiccups in the group in question, none of which directly involve me, but in which I am firmly on a 'side' – in terms of who I am closer friends with, not necessarily who I think has acted in the most appropriate manner.  That's a tougher one.  I was a bit worried that one of the people involved in that mini schism would say something to which I might have to respond defensively for one of the absent parties.
Thankfully, that didn't happen.  It was a lovely day of sun and beer and company and food.  Until we got back to Adelaide, and there were only a handful of us left.  Some comments were made that had exactly the effect I was concerned about of putting me in a horrible, defensive position - from completely unexpected people, and not about any of the topics I was feeling defensive about. 
It was nothing major, but it really upset me – to the point where I cried on the way home because, really, is it supposed to be this hard?  It seems like everywhere there are friendships fading away, falling apart, imploding.  People reacting badly to all of those phenomenons.  People backstabbing, bitching, alliances forming against others, falling apart, reforming.  You have to remember who likes who, who dislikes who, who's slept with or has a crush on who… it's exhausting.  I can't handle the swirling tides of personal politics for more than a few hours without feeling like I'm drowning in them. I did think of Sara and her lovely post about handmade love – the panda hat I sent her on impulse because it had to be hers, among other things (isn't it lovely to have something you spent time and love on appreciated?  I don't know that many other things are as validating) which made me feel better.  But that feels like a cop out – Sara and I, like most of my bloggy friends, don't have to see each other fail at life's little tests of character day in and day out.  What would it be like if we knew each other in person?  Would the Use By Date on our friendships move closer, then?  Because, you know, tout passe, tout casse, tout lasse, there's no avoiding that.  But still, does entropy have to win so obviously?
The comments made last night were fair, if (in my opinion) too vehemently put.  But the fact that I am good friends with the person in question left me in a horrible position – do I defend them against reasonable criticism, or sit in silence, feeling complicit and two faced?  I don't mind what was said – I think it's important to be able to see and understand your friend's failings or character 'flaws', although that is different from bitching, which was what happened then – just that it was said in front of me, involved me in the atmosphere of picking apart people's personalities.  Not that I don't do that myself, I'm only human, after all (besides being as bitchy as the best of them, when I get a good run up to it) but I do try not to do it in front of people who will be offended by it.  Is that better, or worse?  Anyhow, I felt that it was rude to ME to say those (admittedly minor) things in front of me.
In retrospect I got quite sunburnt and that, in combination with a day soaked in beer, left me dehydrated and probably with minor heatstroke – which goes to explain my extreme tiredness and emotional vulnerability.  Also, the whole day I sort of felt like I was fending off people's personalities, being buffeted by them – do you like what I like, dislike what I like, have the same opinions, tastes, preferences.  Someone did this thing, isn't that horrible?  What, you don't agree?  You must be horrible too!
I know I am exaggerating most of this in my head.  Making it more complicated, harder.  I'm not very good at large groups of people, I find it easier to get along when it's small groups or one on one.  I've not ever had a very large group of friends before, which means when there are schisms, I don't really know what to do.  In the past, if it's turned out that I dislike someone, I just stop seeing them.  Now, I see people all the time who I have decided are not my cup of tea – and I feel like a hypocrite for pretending to be great friends with them.  But isn't that how society works?  Grin and get along?
I don't know.  All I know is that yesterday left me with a sense of sadness that was hard to shake. Why, why, why are people so pettily horrible to each other, such minor nastinesses?  It's like being pecked to death by ducks. 
Phew.  That was cathartic.  I've been chewing that over, but I think I just need to let it go and move on.  It's nice to get it out of my head.
Although, while I'm venting, can I just say: people who complain about the weather.  It's boring.  There's a difference between saying 'jeez, it's hot, eh?' on the fifth day over thirty, and being miserable whatever the weather is.  After a certain point, it just makes everyone else glum, too.  I'm not saying I ENJOY 40 degree heatwaves, or weeks of rainy grey days… only, sometimes, I do!  There's something about every season I enjoy, whether it's sitting cosily inside watching rain chase itself down the windows, or bright blue skies that go on forever.  And when people only ever talk about the bad bits (hot, humid, sweaty, grey, cloudy, depressing) then it makes it harder to see the good things. 
As Tom Robbins said in Fierce Invalids Home From Hot Climates, 'Weather should either be celebrated or ignored'. 
Thus endeth today's rant.